Filter by Category
Arts & Crafts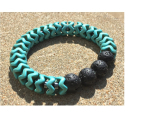 Aromatherapy Diffuser Jewelry
with Jenny Spencer

May 9, 2018 at 6 pm
Diffuser jewelry is a creative and fun way to use essential oils on the go. I will guide you in designing your own diffuser bracelet and necklace made with lava beads, as well as other stones. All supplies/tools are provided. Participants take home a free sample of essential oil to use with your new bracelet! *A $25.00 material fee is payable to the instructor first night of class. Limit 10 students.
Basic Blacksmithing
with Richard Tessier

Apr 26, 2018 at 6 pm
The class will provide students with an opportunity to watch demonstartions of specific blacksmithing techniques, and tool use. Practice time will follow. This is a two day introductory course to explore the basics of the blacksmithing trade. Learn everything from wearing safety clothes to building and managing a coal fire. Learn what tools are needed to bend, twist, punch, drift, shouldering and forge welding.
The class will be held one evening at the Skowhegan High School and one Saturday. The Saturday class will involve travel to a Malbons Mills Blacksmith Shop.
There is a $5.00 fee for materials and fuel which will be paid to the instructor on the first night.
Full Course
Woodworking
with Brian Lewia

Jan 31, 2018 at 5 pm

, runs for 11 weeks
Focusing on the safe use of tools and machines, each student will build a project of their choosing or bring in a project(s) that needs to be completed or repaired. Students will be responsible for the purchase of materials needed for individual projects.
The first class will focus on choosing a project, selecting materials, and developing a consruction plan.
Instruction on machine use will begin during the second class.
Work in the shop will begin during the third session.
Attendance is required for the first night of class for continued participation in this class.