Filter by Category
Exercise & Outdoor Fun
Aerobics ~ Low Impact
with Lois Davis

Sep 9, 2019 at 6 pm

, runs for 10 weeks
Come to a fun and exciting low impact aerobics class where you work out at your own pace. Relieve stress, improve cardio, tone, and make new friends.
Will run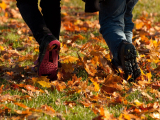 Fall/Winter Rambles for Seniors and other Free Spirits
with Sam Horine

Oct 8, 2019 at 4:30 pm
Walking is a good exercise; it promotes good conversations with fellow walkers and the opportunity to observe one's surroundings. So, for those with some free time, I'm organizing a couple of "rambles" a month - starting in September and ending in March. Most 'rambles' will be in rural areas with a few in urban settings. All will be within a 40 miles radius of Skowhegan. While most 'rambles' will take place in the afternoon, some will start earlier in the day. At times, we may want to carpool to a starting point. Good walking shoes, warm comfortable clothing, in winter - snowshoes and or ice creepers, and the yen to explore are the only essential elements needed.
First Meeting will be held at SAHS at 4:30pm on October 8, 2019
Every second and fourth of each Month
Will run
Pilates Mat
with Petra Prokopova

Sep 11, 2019 at 5:30 pm

, runs for 10 weeks
Don't work out 'hard', work out 'smart', fits the Pilates approach of teaching well-designed whole body exercises. The aim of the exercises is to use mental focus to gain a deeper understanding of your body and its movement- an insight that many of us have lost or never developed. 'Bringing your mind into your body' is a way to allow for a deeper rejuvenation and growth of your mind, body and spirit. The many physical benefits include increased core strength and core stability, deeper continuous breath, improved posture, and an overall increase in strength, flexibility, and range of motion. You may even find out that you grew taller as the cue of lengthening the spine is one of the most frequently given! I offer many modifications so that people from the Introductory through Intermediate levels can benefit to the fullest.
Please bring a thick exercise/yoga mat for adequate cushioning of the spine or other tender points.
Will run