Filter by Category
Home & Family
Aerobics ~ Low Impact
with Lois Davis

Feb 26, 2018 at 6 pm
Come to a fun and exciting low impact aerobics class where you work out at your own pace. Relieve stress, improve cardio, tone, and make new friends.
Will run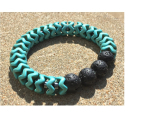 Aromatherapy Diffuser Jewelry
with Jenny Spencer

May 9, 2018 at 6 pm
Diffuser jewelry is a creative and fun way to use essential oils on the go. I will guide you in designing your own diffuser bracelet and necklace made with lava beads, as well as other stones. All supplies/tools are provided. Participants take home a free sample of essential oil to use with your new bracelet! *A $25.00 material fee is payable to the instructor first night of class. Limit 10 students.
Swing Dancing
with Louis Moniz, Jr

Feb 27, 2018 at 7 pm
You'll learn the essentials of great swing dancing by focusing first on how to lead or follow, and then by learning the basic positions and patterns. The foundation of the class is to have fun! Beginners and intermediate students welcomed.
Will run