Filter by Category
Business Training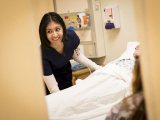 Certified Nursing Assistant (CNA)

Dec 2, 2019 at 8 am
Do you enjoy helping others? Are you looking for a career with many rewards? If so, then this might be the career change for you.
After 90 hours of classroom theory and 90 hours of clinical and laboratory work, hands-on at a local long-term care facilities, and final exam, you will be State of Maine certified.
Requirements: Proof of age (at least 16); Proof of high school graduation or equivalency; completed application form; successful completion of a reading entrance exam and completed interview.
Application (with letters of reference) DUE November 25, 2019
CASAS Pre-Test: December 2, 2019, 3:00 p.m. @ Adult Education
Classes/Clinicals: December 9, 2019, through February 12, 2020—M/T/Th/F Class 8:00 a.m.-3:30 p.m. Clinical 6:30 a.m.-3:00 p.m. No class Dec. 25, 26, 27 or Jan. 1.
CASAS Post-Test: TBD • CNA State Exam: TBD
Payment plan available: $100 deposit plus 2 payments of $150.00, paid weekly.
21st Century Workforce Initiative Youth Program
with Jeremy Lehan

Jan 14, 2020 at 3 pm
For Youth (16-24) No Longer Attending the K-12 System
The 21st Century Workforce Initiative is a 10-week, paid work experience program being offered through the Department of Health and Human Services in partnership with Lawrence and Skowhegan Adult Education Programs and the Skowhegan Career Center. Successful candidates will work 20 hours per week with a local employer at $12 per hour, after participating in a no-cost, individualized education and/or mentoring class. Participants will be matched with local employers based on individual career interest assessment results.
Pre-register for Information and Application here online!
Will run