Filter by Category
Certificate Programs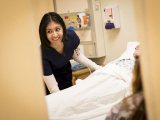 Certified Nursing Assistant (CNA)

Dec 2, 2019 at 8 am
Do you enjoy helping others? Are you looking for a career with many rewards? If so, then this might be the career change for you.
After 90 hours of classroom theory and 90 hours of clinical and laboratory work, hands-on at a local long-term care facilities, and final exam, you will be State of Maine certified.
Requirements: Proof of age (at least 16); Proof of high school graduation or equivalency; completed application form; successful completion of a reading entrance exam and completed interview.
Application (with letters of reference) DUE November 25, 2019
CASAS Pre-Test: December 2, 2019, 3:00 p.m. @ Adult Education
Classes/Clinicals: December 9, 2019, through February 12, 2020—M/T/Th/F Class 8:00 a.m.-3:30 p.m. Clinical 6:30 a.m.-3:00 p.m. No class Dec. 25, 26, 27 or Jan. 1.
CASAS Post-Test: TBD • CNA State Exam: TBD
Payment plan available: $100 deposit plus 2 payments of $150.00, paid weekly.