Filter by Category
Workforce Training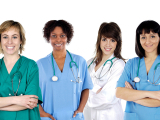 CNA M Training at MSJ
with Diane Sinclair

Oct 18, 2017 at 3 pm
A Certified Nursing Assistant – Medication trained person works in nursing facilities, assisted living, state mental health institutions, county jails and state correctional facilities. They can administer selected non-injectable medications to patients 4 years of age or older and is supervised by a registered professional nurse.
RSU54 Adult & Community Education in Skowhegan in collaboration with Mount Saint Joseph Residence & Rehabilitation in Waterville, Maine will be offering a CNA-M course*.
This is a course prescribed by the Maine State Board of Nursing and adheres to the Maine State Nursing Practice Act, Chapter 5. It is for Certified Nursing Assistants who have completed one or more years of full-time employment as a CNA and listed as active and in good standing on the Maine State Registry of Certified Nursing Assistants.